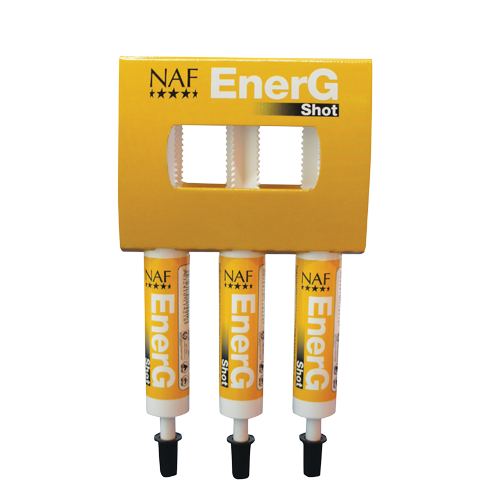 Details
EnerG Shot is a concentrated nutritional blend of essential amino acids and bio-available iron to support energy metabolism and red blood cell production. It comes in an easy to administer syringe, making it easy to feed when most needed. EnerG Shot contains a unique, scientifically advanced formulation that provides a combination of amino acids including the first limiting amino acid, lysine. These are key to energy and performance, in that they are utilised for energy, particularly in the muscles, during exercise. While supporting the increased need for energy at times of peak performance, EnerG Shot also fulfils the requirement for increased levels of iron needed for healthy red blood cell production, maintaining performance and focus. EnerG Shot is designed for use when needed, so is ideal for competition or training. For daily support of optimum energy metabolism in working horses feed Liquid EnerG.
All products are subject to breakage in stock at the supplier .


Ask for information about this product
Request information about this product! Fill out our form and we will contact you as soon as possible!